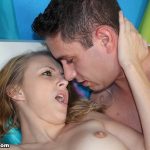 Dear Diary,
I want to fuck my brother. I know its not something I'm supposed to admit out loud but I saw him getting head from his girlfriend and he's got a big dick. I want that big dick inside me. Watching his girl slobber all over his long and thick prick made my kitty so wet that I didn't even have time to run back to my room and masturbate. So, I lifted my dress right in the hallway and finger banged myself while spying on my brother.

I then ran back to my room and was still so horny that I grabbed my small toy and started ramming it inside me to get myself off. I imagined what it'd be like to have my brother stand there and watch me pleasure myself. I know it'd turn him on so much that he'd want to fuck me. Then, just as I was fantasizing about him, he actually came into my room and offered to bang me. Did I take him up on the offer? Heck yeah! Why would I turn down such a good offer?
As I wrapped my mouth around his big cock, I kept telling myself "you're a naughty girl Jenna Marie, you shouldn't be doing this with your brother" but my hormones weren't having it. I had to have every inch of his manhood inside my mouth and in my pussy. He let me ride him and then he pushed me on all fours and fucked me in my favorite position – doggystyle. I had the best orgasm from fucking my brother! Then I took his cock and sucked it hard until he came all over my face!
xoxo,
Jenna Marie