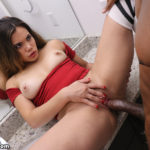 If Keilani Kita has ever wondered what it'd be like to have a huge black cock lodged in her tight pussy, she doesn't have to wonder anymore. That's all thanks to her hung black stepfather who happily pounds her mouth and then spreads her out on the bathroom counter for a plowing she'll never forget. This interracial scene from FamilyLust.com is what happens when good girls can't control their lusty hormones and end up crossing taboo lines just to get a good dicking. It's definitely one to bookmark and wank to over and over again!

Keilani Kita accidentally budges into the bathroom when her step father is taking a shower and just as she's about to close the door, she gets a peek at his naked body. Her eyes zoom in on his long dick, the sight of which makes her wet in between her legs. She knew he was packing but she had no idea how big his dick really was. Until now. The pretty Asian babe is so turned on by the big black dick she's starring at that her hand wanders down to her jean shorts and she starts fingering herself while fantasizing about her stepdaddy.
The teen nympho day dreams about latching onto that humongous black dick and draining it with her mouth. Then Keilani Kita's fantasy takes an even raunchier turn when she imagines herself bent over the sink with her black step father ramming into her from the back. In her fantasy, she even creams his big dick, something that gets him excited. He lifts her off the floor and pounds into her while grabbing her sexy ass, then he finishes in her mouth!