Ashlynn Taylor is a very bad girl. She wants to fuck her stepdad so bad but she knows that's not a line she's supposed to cross. There are however no rules about who she can fantasize about so on this day, when she's feeling particularly horny, she decides to masturbate in the bathtub while fantasizing about her step dad. The naughty brunette imagines how good his thick dick would feel in her mouth and then she takes her fantasizing a step further by imagining her hung step dad ramming his monstrous dick into her tight pussy.

The fucking fantasy is so vivid, it seems real! Ashlynn Taylor gobbles down the older man's giant prick like she's been training to do just that her entire life. She's on her knees in the bathtub with the dick pointed at her and with no encouragement from her stepdad, the cock starved babe grabs his boner and crams it into her mouth. With her oral fixation taken care of, the slender nympho bends over so her stepdaddy can enter her from behind.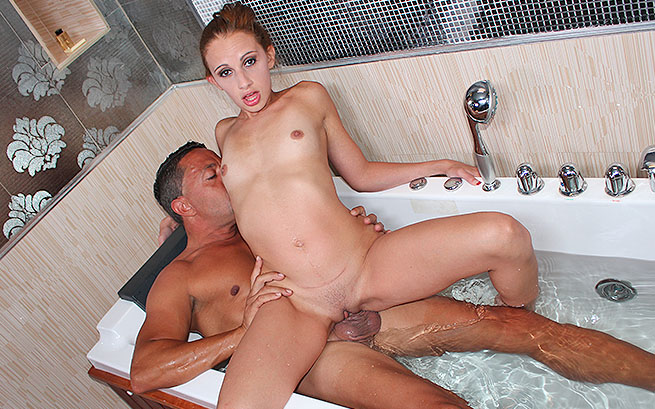 Neither of them do much talking in Ashlynn Taylor's fantasy. They're too busy savoring their time together as they engage in this taboo fucking. The older man plows into the teen babe doggystyle and then sits down in the tub so she can ride his dick to her heart's content. Then he pulls the dick from her pussy to her mouth which is where he finishes! The way Ashlynn gags and chokes as a huge load fills her mouth is priceless. Her reaction when she awakens from her fantasy daze is something to watch out for!