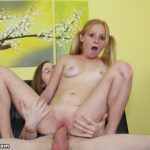 In this sizzling hot new video from FamilyLust.com, Alyssa Hart discovers that vitamin D – as in Dick – is the only medicine she needs to cure her ailment. The tiny teen nympho is unwell but instead of heading down to the nearest clinic, she heads down to her step brother's room to complain about not feeling well. He knows that a quick fuck will cure this horny babe so he pulls out his big dick and offers to pump it into her. She may be sick but she's definitely not too sick to fuck and when her eyes land on that dick, she knows this is all the medicine she needs to feel better.

To say that Alyssa Hart's step brother is an opportunist would be a huge understatement. He's just a horny man who happens to be in the right place at the right time when a fucking opportunity comes knocking and he's smart enough to seize it. His step sister doesn't feel too good but he knows that his dick can pump some life back into her and make her feel like her old self so he makes an indecent proposal that the petite hottie can't refuse.
The two of them know such naughty relations between them are strictly forbidden because they're family but desperate times call for desperate measures and Alyssa Hart is so desperate for a cure she'll do anything. First thing she does is stick her step bro's cock into her mouth and suck it hard, then she hops on top of it and rides it bareback. Each thrust feels like a dose of medicine being injected into the pig tailed babe and the final dose is delivered straight to her face when her hung stepbrother pulls out and sprays his jizz all over her pretty face!