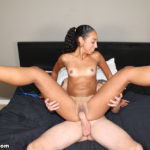 Being a douchebag sometimes yields unintended benefits. Just ask Raven Heart's step brother who gets tricked by his girlfriend into believing he's about to get some really kinky sex but as soon as she gets him naked and ties him to the bed, she bails after calling him out on his cheating. As if the poor guy couldn't be humiliated even more, in walks his younger step sister who laughs at his dilemma before her eyes travel south to his package. She's certainly not laughing when she realizes just how big and attractive her step bro's dong is and before long, she joins him on the bed and starts sucking him off! This taboo adventure is captured in HD at FamilyLust.com.

Raven Heart knows her step brother is a douchebag so she's not surprised to find out that he cheated on his girlfriend. What she doesn't know is that he's hung but this is answered when she finds him tied to his bed thanks to a savage revenge move by his now ex-girlfriend. Her curiosity gets the best of her and she decides to take advantage of the situation by sinking her mouth down on her step brother's cock. She shouldn't be doing that but that dick tastes so good and it gets bigger with each lick.
Soon enough, orally fucking her stepbrother just doesn't cut it and Raven Heart knows she must have him inside her. With his legs and hands still tied up, she mounts his hard cock and moans as he goes balls deep inside her wet snatch. His dick definitely feels as good as it looks and tastes. It also helps that he knows how to use it! He fucks her in a few different positions as she begs him to cum for her and when he's ready to nut, he pulls out of her twat and unloads all over her face! He may be a douchebag but he's certainly a good fuck!