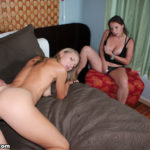 Most teens are in denial about the fact that their parents actually have sex. They also most definitely have no desire to watch them have sex. Zoe Rae however, is the exception to the latter. This brunette teen doesn't mind watching her mom banging her step dad which explains why she eagerly jumps at the chance to do just that when she's busted masturbating and her mom Alina Long decides to show her what real sex is by bending over and letting Zoe's step dad fuck her as the horny teen watches nearby. The full family fuck affair unfolds in HD at FamilyLust.com.

Alina Long is an exhibitionist who likes to show off her fabulous fucking skills. She wants an audience as her hubby pounds into her and since her daughter could use a sex lesson, she orders her to sit near the bed and watch. Ever the obedient daughter, Zoe Rae listens to her mom and watches from the chair by the bed as her step dad gets his big thick dick licked up and down right before he gets mounted and ridden in reverse cowgirl. The action is too hot for the naughty teen who can't help but spread her legs and finger herself as she watches her mother ride her step father's dick.
Zoe Rae is so excited by the steamy fuck session happening before her that she stains her panties with her lady juice and when her step dad flips her mom to her knees and fucks her hard from behind, the hot teen babe feverishly flicks her own clit as she tries to make herself climax. She joins her parents on the bed to get a better view of her hung step father's dick thrusting into her mom's pierced pussy and by the time the couple cums, the teen has had a very demonstrative sex lesson. Now she knows what to do next time she's feeling horny!