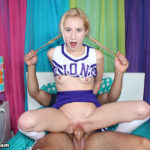 Teen bimbo Odette Delacroix has got the hots for her step brother. She wants to fuck him so bad and she spends a great deal of time each day imagining what his cock would feel like thrusting into her tight moist cunt. These lusty thoughts are so strong that she seeks helps from her shrink. She's hoping he can teach her how to deal with them. Her session however triggers yet another step sibling fucking fantasy for the pigtailed cutie and its so vivid that it seems like its reality. This very hot high def video from FamilyLust.com takes you along on this taboo fantasy where every second is hotter than the last!

Odette Delacroix imagines she's vibrating her cunt when her hung step brother walks up to her and sticks his big dick in her mouth. She sucks him off real good while still tickling her slippery clit with her gigantic vibrator. Then she spreads her long legs further apart and invites her step brother to fuck her. He accepts her invitation and slides his rock solid bare cock into her warm twat. The skin to skin contact makes both of them moan out in pure ecstasy but this is just the start of their fun together.
Her stepbro may be older and more experienced than she is but Odette Delacroix knows a thing or two about fucking and she wants to show off for him so she mounts him and gyrates all over his dick. She drenches it with her pussy juice and moans even louder as it disappears further up inside her. Then her horny step brother grabs her pigtails and yanks them hard as he roughly crams the last few inches deep inside her. This one move brings both of them closer to orgasm. They switch fucking positions and finish with the blonde teen at the bottom. This is the perfect position for the cum facial that awaits her at the end! Her imagination is so vivid, this fantasy may as well be reality!