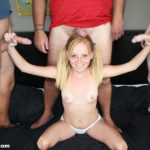 What's better than seeing Alyssa Hart with one cock jammed inside her? Watching three dudes run a train on her! That's exactly what happens in this very intense but fun video from FamilyLust.com when her uncle and cousins decide to punish the petite babe for being such a whore. She's brought shame on the family name with her whorish way so a family gangbang intervention is badly needed. You'd think such a tiny gal wouldn't be able to handle three big cocks at once but you'd be mistaken because she more than lives up to her slutty reputation by banging all three of her family members at the same time!

Alyssa Hart doesn't give two fucks about people's opinion of her. Her family, however, does. They also don't like the fact that other men get to sample her goodies but they've never tasted them so her horny uncle and cousins decide to stage an intervention right in the bedroom and being the good sport she is, Alyssa plays along. Its one against three but the odds are firmly in her favor because fucking is her thing.
First she sucks them off like a true cock hungry and cum starved whore. Then she spreads her legs and moans as horny cousin number one slides his rock solid prick into her warm shaved pussy and pounds it real good. While he takes care of business down under, Alyssa Hart sucks off her uncle and cousin number two. Then the guys take turns banging the slutty babe in various positions before unloading their sticky goo all over her body! She's a sight to behold with cum plastered all over her sweet face and slim body frame. Maybe after this gangbang intervention, she'll re-think her slutty ways – or maybe not.