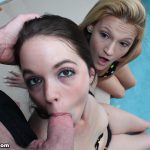 Mr. Johnson has just one rule for her teen step daughter while he's away – she's not allowed to have any guests over, especially her friend Hope Harper. His warning falls on deaf ears though because as soon as he's out of sight, the disobedient chick invites her bestie over and they make out while taking a dip in the pool. This is where Mr. Johnson finds them and he's pissed beyond words, as this video from FamilyLust.com shows so he decides to punish Mia Monroe by fucking her hard right in front of her best friend!

First the older man makes the slutty teen duck his cock by dipping his cock head into her mouth and just as she's beginning to savor the pre-cum laced tip, Mr. Johnson grabs the back of her head and shoves half of his rock hard man meat into her mouth. Mia Monroe's eyes almost bulge out of their sockets as the fat dick hits the back of her throat and Hope Harper gasps in shock mixed with a little bit of envy.
The petite blonde would definitely love to be on the receiving end of this punishment but Mr. Johnson is only interested in punishing Mia Monroe although he doesn't object to Hope Harper watching the hardcore pussy punishment going down. The three move indoors where the horny step dad spreads his step daughter out on the bed and drives into her bareback while her best friend masturbates nearby. Then Hope Harper kneels back and watches as Mia Monroe finishes off her much older step father with a superb handjob!