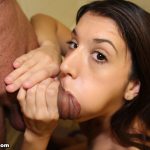 Some teens hate their step dads but not Logan Lace. She loves hers so much that she'll do anything for him, including sucking him off and letting him fuck her in the bathroom like he does in this super hot video at FamilyLust.com. The sweet brunette is interrupted mid-shower by the much older man and being the caring step daughter she is, she gets out of the shower and blows him big time before he pins her to the counter and pounds her pussy hard. This is a bathroom hook up neither of them will ever forget!

Bath time is sacred time for Logan Lace and the shower is where she gets to chill and unwind but it's obvious from the minute her step father walks into the bathroom and pulls back the shower curtain that there will be no solo chilling today. Instead, her one girl show turns into a twosome when the older man makes his intentions known and since the teen nympho is always up for anything, she happily obliges him by going down on her knees and sucking his fat dick.
Her step dad clearly needs more than just a blowjob from her so Logan Lace perches her ass up on the bathroom counter and spreads her legs so the freshly sucked erect prick can pierce into her wet snatch. She moans with each dick stroke and digs her nails into the hard counter top each time her horny step dad buries himself even deeper inside her. So does he cum inside her or not? You can find out by watching the high def video exclusively at FamilyLust.com.