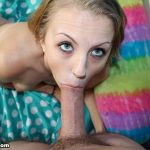 There's no denying that Jenna Marie has got a thing for her step brother Brad. She can see the outline of the big dick swinging in his pants and she badly wants to feel it ramming into her orifices. Brad also secretly lusts after the petite babe so when the two of them get together, fireworks fly as they rip into each other with reckless abandon. She latches onto his big dick and slobbers all over it with a hunger Brad has never seen before and for her impressive mouth fuck, he rewards her by slamming his thick cock into her tight hole until she can't handle it anymore.

If there is one thing to take away from this really hot high def video from FamilyLust.com, its that fantasizing about fucking your step sibling pays off big time. Jenna Marie gets to learn that first hand when she hooks up with her step brother Brad. Their hook up is forbidden and considered a taboo by society which is what makes it even hotter. The duo have clearly been building up to this moment because the second they get together, they passionately go at each other, sucking, stroking and fingering until all that's left is for Brad to drive himself into Jenna.
He hoists her up on his big erect dick and holds onto her hips as she grinds up on him. Then he flips her to her side and plows into her sideways as she fondles her erect nipples. The pair kiss passionately while Brad digs deeper into his tiny step sister and then he pulls her to her knees and bangs her doggystyle before pinning her to the bed, fucking her hard and cumming on her face.