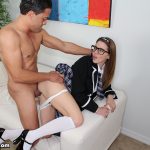 When you're horny as hell but also single as fuck you have no one to turn to but your own hands for a release which is what Claire Heart does in this sizzling hot video from FamilyLust.com. The nerdy babe pulls out her toy and starts running it up and down her clit with the intention of getting herself off but her step dad interrupts her masturbation session and offers his own dick in the place of the toy and of course the horny babe jumps at the chance to fuck the older man!

She's been crushing on him for the longest time but never acted on the crush because he's technically family and there's a line she shouldn't cross but she's so horny and the minute her step dad whips his thick cock out of his pants, Claire Heart crosses the taboo line by opening her legs wide and giving him unrestricted access to her tight and wet hole. He eagerly dips his cock head into it, as if testing the waters and then pushes half of his man meat into the petite babe's pussy, making her moan as the dick hits all her sweet spots simultaneously.
Then he bends her over and penetrates her from the back before propping her into his laps and letting her ride him as he sucks on her small but perky tits. Claire Heart suspected fucking her step dad would feel good but the reality far exceeds any fantasizes in her head. His dick fits perfectly in her snatch and all his strokes push her closer and closer to the edge until she cums all over his dick. When its his turn to cum, he pulls out of her and cums all over her pretty face.