Stop me if you've heard this one before – a hot step mom invites her two step daughters into her bed and shares her man's cock with them. Pretty insane, right? Except that's exactly what happens in this group sex scene from FamilyLust.com when Christina Skye catches Hope Harper and Alyssa Hart spying on her fuck session but instead of scolding them, the busty blonde invites them to join her and together, the trio suck off her man and then he gets to dip his hard cock into each of their tight holes.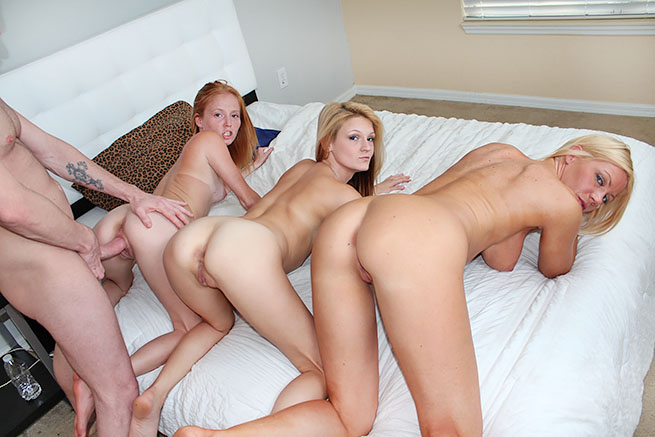 Hope Harper and Alyssa Hart should know better than to spy on their step mom while she gets her holes pounded but they're teens and they're curious and it's that curiosity that turns them into peeping Toms which gets them in trouble. Their step mom bursts them spying on her and as punishment, she makes them blow her man's cock which is exactly what they'd secretly been hoping to do anyway! Christina Skye gets turned on the more she watches her horny step daughters slobbering all over the big cock so she decides to jump right back in and the three of them get to work on the cock together.
Team work definitely pays off dividends for everyone involved here because Christina Skye gets to show off just how superior her sucking and fucking skills are because she's more experienced and Alyssa Hart and Hope Harper get to pick up some fucking tips from their step mom. The biggest winner though is the man who gets to fuck both the step mom and her step daughters at the same time!