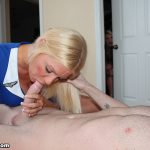 All Christina Skye wants to do is fuck her husband really quick before she leaves for work but unknown to her, her naughty teen daughters are hiding in her closet, watching her every move. They see her when she wraps her mouth around her hubby's cock and sucks it hard and they watch in shock as he bends her over and enters her moist twat from the back. The two girls will definitely get in trouble if their mom catches them but for now, they're too busy enjoying the show she's unknowingly putting on for them in this crazy hot new scene from FamilyLust.com

Most people get grossed out by the idea that their parents fuck every now and then. Actually that's a thought pretty much no one wants to entertain but not Christina Skye's two daughters. They're nymphos just like their mom and they love to watch especially if the person they're watching is their mom with her ass up in the air and a dick jammed in between her pussy lips. The two teens get to satisfy their inner voyeur when they spy on their parents' fuck session from the closet and they definitely get an eyeful of their parents' assets and sluttiness!
They have a front row seat to the mind blowing blowjob their blonde hottie of a mom performs on their dad and when Christina Skye opens her legs wide and offers up her pussy for a hardcore pounding in different positions, her daughters' eyes almost pop up out of their sockets. It didn't occur to them just how much of a sex-crazed nympho their mom is until they spy on her getting fucked.