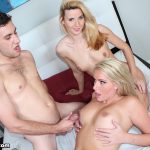 Every man deserves to get laid on his birthday and since Ben doesn't have a girlfriend, his trusted genie decides to snap her fingers and turn his wet dream into reality. He's always fantasized about how good it'd feel to fuck his hot step sister and the genie makes that happen in this new scene at FamilyLust.com – better yet, she even gets to watch as the horny lad not only bangs his step sister but as he jizzes all over her tits too! This birthday sex is the perfect gift anyone could give Ben and this is definitely the best birthday he's ever had!

Ben's genie must be the most hardworking genie in the world because she's back at his side, granting yet another sex wish to him. He still wants to fuck his stunning step sister so the genie makes it happen, and then sits back and watches as the two horny step siblings rip into each other. Cherry Morgan didn't get her stepbrother a gift so she opens up her tight pink hole and offers it to him to do whatever he wants to do to it.
What he wants to do is sink his hard cock deep into Cherry Morgan's wet pussy. Its something he's been dreaming about doing since he met her and he doesn't care that this is one family bond he shouldn't dare mess with. All he wants is to fuck her senseless and since she's horny too, she's more than game for some action so down taboo lane they go with Ben fucking the hot blonde so hard until he finishes on her tits!