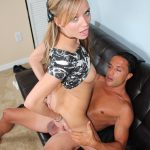 You can call her Pristine Edge or you can call her ho-ho because all this teen wants to do is dress like a slut and do slutty things. Her step dad quickly nips her thot ways in the bud but as this hot video from FamilyLust.com shows, this naughty teen has a sure fire way of making the older man see things her way. The route she takes to get her stepdad off her back is very unconventional and creative and its one that ensures she gets fucked real good too!

Pristine Edge wants to hit the town but her step father won't let her go out dressed like a whore. He thinks her shorts are too short and her shirt leaves nothing to the imagination. The slender teen doesn't want to change her outfit so she offers to fuck her step dad if only to get him to back off the whole outfit thing. Its an offer he can't refuse. He knows he shouldn't be crossing this particular line with his own step daughter but he can't resist the urge to dip into some tight teen pussy so out comes his dick and off to the fucking zone the two go.
Always the size queen, Ms. Edge is very impressed by the size of the dong attached to her stepdad. She can see why her mother was attracted to him! Just looking at the big dick pointed in her direction gets her wet between the legs so she slides to her knees and immediately starts showing the large dick and balls some mouth love. Then she bends over and spreads her ass cheeks so the throbbing dick can thrust into her and the trusting doesn't stop until her horny and hung step father has had his fill of her teen twat. Only then does he pull out and shoot his load all over Pristine Edge's freshly fucked shaved cunt.