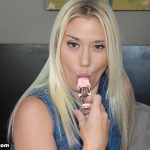 While most people get crappy gifts for their graduation, Shelby Paige is lucky enough to get a set of sex toys from her horny step dad for her big day. He gets her those particular gifts because he intends to use them on her but he doesn't realize how much of a freak she really is until she offers up her ass for a pounding in this new video from FamilyLust.com. The hung man is honored to give the blonde teen her first anal fuck experience so he lubes her ass up real good and fucks her tight hole with a toy and then his cock before filling it with cum!

Shelby Paige has hooked up with guys before but never let anyone near her back door until today. She's feeling kinda frisky and wants to take her new sex toys for a test drive and since her step dad is in the mood for a good fuck, he hops on for the ride down anal lane. The petite teen undresses and bends over, parting her ass cheeks so her step father can lick her ass clean and when he's done tossing her salad, he pours lube all over her hole and slides one of the toys into her butt hole.
He twists and turns the toy while driving his dick in and out of her pussy and then he switches things up by pulling the toy out of her ass and replacing it with his dick. Shelby Paige moans as her step dad's dick sinks lower into her ass and the look of pain on her face is unmistakable but its soon replaced with pure excitement as her ass relaxes and she actually starts enjoying having a dick in her butt! Her amazing first ass fucking experience ends with her step dad filling her freshly gaped ass with loads of cum and what a sight it is!