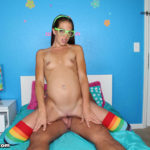 When Maddison Hardy grows up, she wants to be a rocket scientist. She obviously knows a ton about rockets that shoot up into the sky but not about the rocket dangling in between her step dad's legs. The mature man wants to launch that rocket into the wet orbit in between Maddison's legs and he gets the chance to do just that in this very hot taboo scene from FamilyLust.com. The geeky teen is book smart and now thanks to her step father, she's an expert at fucking too!

Mr. Johnson has had his eye on Maddison Hardy for years. That's his step daughter and someone he shouldn't be lusting after but he can't help himself. She's fully legal now and her tight little body is up for grabs so he makes his move on her and it pays off big time for him. The mature man calmly lays back on the teen's bed playing with his dick as he watches her undress. The sight of her small tits and shaved pussy gets him even hornier but nothing compares to feeling his dick throbbing in her mouth.
If Mr. Johnson thinks getting blown by Maddison Hardy is as good as it gets, he's in for a special surprise because his naughty stepdaughter switches his dick from her mouth to an even tighter hole down below. With her legs pinned up above her head, the horny brunette teen invites her step dad to fuck her as hard as he can – a request he's only too happy to fulfill. He pounds into her real good and then splashes his creamy seed all over her.