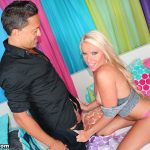 Cherry Morgan and her step dad know exactly how much they have to lose by fucking around with each other but that doesn't stop them from ripping into each other in this brand new scene from FamilyLust.com. The sexy blonde is officially 18 and finally gutsy enough to turn her step dad fucking fantasy into reality and when her horny step father barges into her room as she fucks herself with a gigantic toy, she seizes the opportunity and sucks him off hard before impaling herself on his big cock. The reality is so much more fun than the fantasy and so worth whatever trouble the duo may get into should they get busted!

A horny fully legal teen will always find a way to get what she wants and for Cherry Morgan that's her stepdad's cock. She wants to feel it pounding away inside her and she doesn't have to plead much to make that happen. All this blonde hottie has to do is open her legs wide and dare her step dad to imagine himself deep inside her tight snatch and the instant she does that, his cock goes from limp to hard and his fingers can't help but wander into the moist womanhood.
Both of them are super turned on and ready to play and Cherry Morgan gets things going with a sensual blowjob before she bends over and backs her ass into her step father's face for a thorough pussy licking. Then the older man pulls the teen's pink panties to the side of her ass and buries his big cock deep inside her, making her moan as he hits all the right spots and when he's ready to nut, he takes his cock from her pussy to her mouth and deposits his thick load on her tongue!