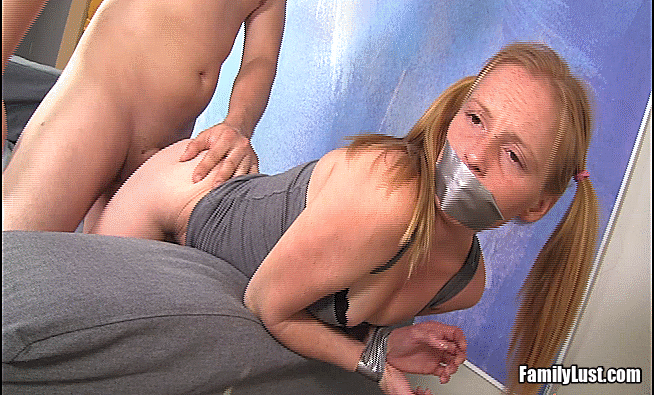 Wet dreams are nothing new to Alyssa Hart. But a kinky wet dream featuring her step brother? Now that's something else. Its something the pint-sized chick never ever imagined herself having and yet, here we are. She watches a rated R movie with her stepbro that hits a nerve in her. Obviously, the movie has a similar effect on her step sibling because he tapes up her mouth, swings her over his broad shoulders and throws her on the couch where he proceeds to have his way with her!

By the total nympho she is, Alyssa Hart gladly welcomes this "abduction". She knows exactly what it means . She's about to get every hole on her body stuffed with cock. Her step brother doesn't disappoint! The minute Alyssa's ass hits that couch, the horny dude lets his fly loose and crams his dick into the petite babe's now un-taped mouth. Her hands are still bound at the wrist though but that doesn't stop Alyssa from stroking the big dick with her fingers while trying not to choke on it!
Getting mouth fucked by her stepbro is just the starter course though. Soon, he tires of Alyssa Hart's mouth and wants into her pussy. So, he bends her over and slams his hard man meat into her cunt from the back. Alyssa moans as that dick hits all her sweet spots and her moans only grow louder when she rides him. The real icing on the cake though is when the horny man pulls out and drizzles his creamy man juice all over Alyssa's tiny body!