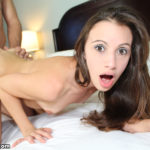 Nothing says "I missed you step bro" like a hard pounding that ends with cum sprayed all over the face. At least that's how Ashlynn Taylor explains her current situation. Her step brother has been gone from home for a while and when he returns, the gorgeous brunette babe decides to give him the gift of her pussy. She knows he can't turn down the chance to thrust into her tight pussy and the sight of her neatly trimmed triangle bush sends his hormones into overdrive. He bends her over and plows deep into her and as this five star video from FamilyLust.com shows, the only time he stops is when he pulls out and ejaculates all over her pretty face.

Ashlynn Taylor could get her step brother a traditional welcome back home gift but that would be boring and unoriginal. She could just not give him a gift but that would be rude. So the quick thinking horny babe decides to give herself to him. They've always had chemistry but never dared to cross that line because family doesn't fuck family. That all changes today when Ashlynn opens her mouth wide and swallows her step brother's dick. It grows bigger and harder with each lick and when it can't get any harder, the naughty step sis opens her legs wide and invites her lucky step brother to fuck her.
He doesn't need her to ask him again because his hands are all over her as his dick pokes at her wet hole. He can hardly contain his excitement so the second Ashlynn Taylor signals that she's ready for him, the even hornier step bro immediately drives into her snatch. He pounds into her in various positions, bringing himself closer and closer to the point of explosion with each thrust. When he's finally ready to cum, he pulls out of her gaped hole and nuts all over her face!