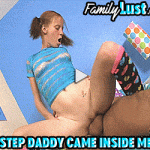 If chicks only let guys they love cum inside them, then Alyssa Hart must really love her step dad because she not only lets him bang her raw in this insanely hot video from FamilyLust.com but she also lets him ejaculate inside her pussy and when he pulls out of her, you definitely don't want to blink because then you'll miss out on watching her freshly fucked twat squirting out his creamy load! This is one babe who clearly isn't worried about any consequences that may come from having her step daddy nut inside her!

With a step daughter as hot as Alyssa Hart, its no wonder that her step dad wants inside her so bad so when the two of them find themselves home alone, they decide to take things across a taboo line they both have no business crossing. She's as hungry for him as he is for her and this is evident from the way she hurriedly unzips his black pants and reaches for his big dick. She's a size queen so she's super impressed with what her step dad is working with in between his legs and she lets him know just how impressed she is by stroking his big uncut prick and then shoving it into her mouth for a sensual licking.
Feeling the throbbing dick in her mouth isn't enough to quench Alyssa Hart's horniness so she spreads her legs wide open and begs her step dad to slide into her and fuck her senseless and he's only too happy to oblige. His thrusts are gentle as her tight pussy gets used to his big cock but then she hops on top of him and rides him hard right before he flips her on her back and uses slow but deep thrusts to make her cum and then he explodes inside her! Her cum filled pussy will make you nut!